Prominent Scientists Declare Climate Claims Ahead of UN Summit 'Irrational' – 'Based On Nonsense' – 'Leading us down a false path'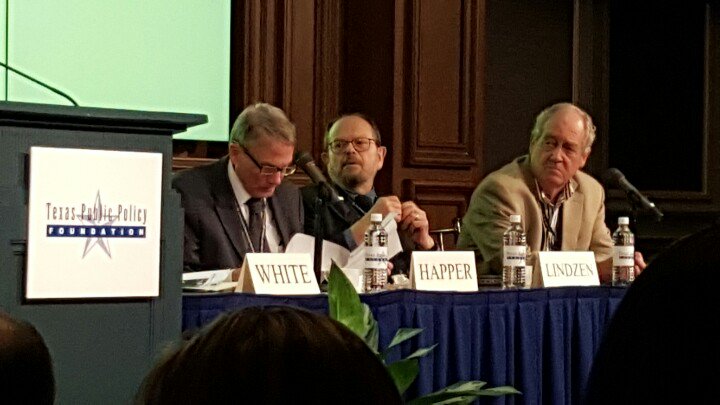 MIT Climate Scientist Dr. Richard Lindzen: 'Demonization of CO2 is irrational at best and even modest warming is mostly beneficial.' – 'When someone says this is the warmest temperature on record. What are they talking about? It's just nonsense. This is a very tiny change period.'
Princeton Physicist Dr. Will Happer: 'Policies to slow CO2 emissions are really based on nonsense. We are being led down a false path. To call carbon dioxide a pollutant is really Orwellian. You are calling something a pollutant that we all produce. Where does that lead us eventually?'
Greenpeace Co-Founder Dr. Patrick Moore: 'We are dealing with pure political propaganda that has nothing to do with science.'
Are emissions from our cars, factories, and farms causing catastrophic climate change?  Is there a genuine scientific consensus? Or is man-made "global warming" an overheated environmental con job being used to push for drastic government control and a radical "Green" energy agenda?
Climate Hustle will answer these questions, and many more.  Produced in the one-of-a-kind entertaining and informative style that has made CFACT and Marc Morano's award-winning ClimateDepot.com one of the world's most sought after sources for reliable, hard-to-find facts about climate issues, this groundbreaking film will tear the cover off of global warming hype, and show what's really behind this multi-billion dollar scam.
Climate Hustle will reveal the history of climate scares, examine the science on both sides of the debate, dig into the politics and media hype surrounding the issue, show how global warming has become a new religion for alarmists, and explain the impacts the warming agenda will have on people in America and around the world.
Say "No" to the UN climate agreement and the global warming campaign
Scientific observations reveal there has been no meaningful global warming since the turn of the millennium and at most a brief and minor warming above scientific baselines during the century past.
The computer models relied upon by the UN have completely failed to explain current temperature trends.
This calls into question the entire theory that carbon dioxide emissions from human activities pose a significant risk to the planet.
Yet the public is daily subjected to tales of catastrophic climate change.
Ruinously expensive energy, adaptation and wealth-redistribution policies are being demanded that will not affect the climate in any meaningful way yet will harm people and nature, and trap poor developing nations in long-term energy poverty.
Scientists and citizens who question or find fault with this global warming campaign are routinely marginalized, slandered, and silenced.
This is not how valid science and policy is conducted.
We the undersigned therefore call upon our government to reject any international agreement put forth by the United Nations Framework Convention on Climate Change, and to return to policies fostering access to abundant, efficient and affordable energy for people everywhere.
https://secure.giveworks.net/cfact/paris_treaty/Depot
Canadian postal codes are not recognized at the Petition link however the power of your intention still matters and is much needed!
Open Letter to the World Community of Nations http://stateofthenation2012.com/?p=25575
A Global Call to Action Nov 30 – Dec 11, 2015: Stop the Chemtrails and Terminate Geoengineering http://stateofthenation2012.com/?p=25718
The surgically precise execution and timing of the Paris terror attacks on Friday the 13th have created a fastidiously engineered climate of fear in France and around the globe.  It is this perfectly sculpted environment which will be used to intimidate and threaten the attendees of the climate conference to agree to what is essentially a new One World Government.
http://themillenniumreport.com/2015/11/just-like-911-paris-attacks-being-used-to-foist-climate-change-legislation-and-co2-control-regime-on-the-world-community-of-nations/
Please share this post widely along with earlier posts and hard facts, to educate people who are unaware of gross assault on human rights and freedom. Thank you.
Know Your Rights
Sincerely,
Doreen Ann Agostino
Non-negotiable autograph,
all rights reserved
http://freetobewealthy.net